It feels like Leonardo DiCaprio has recently found his perfect match with Neelam Gill, and people couldn't help noticing this hot couple! Leo's dating life again caught everyone's attention when British-Indian model Neelam Kaur Gill was recently spotted with DiCaprio in London along with Irmelin Indenbirken, DiCaprio's mother, and friends.
It is not the first time Leonardo DiCaprio's personal life has captured the limelight. He was also assumed to be dating Gigi Hadid as they were spotted together at a New York club. He was also linked to 19-year-old model Eden Polani when they were publicly seen together.
However, the rumors took an exciting turn when he was recently seen leaving the Hotel Martinez in Cannes with British-Indian model Neelam Kaur Gill. The evidence was enough to leave people wondering whether the two stars were having an affair with each other.
However, Leonardo DiCaprio is single and currently embracing his singlehood. Neelam Gill is dating the actor's close friend. Since then, the rumor has infused curiosity among the people to know more about the British model of Indian origin. Here is some information about the gorgeous model Neelam Kaur Gill.
Who is Neelam Gill?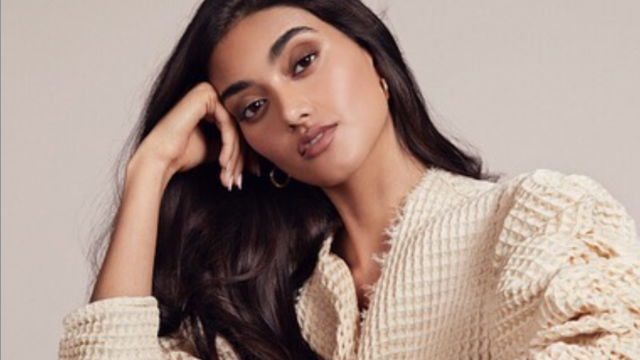 Neelam Kaur Gill is a 28-year-old British-Indian model born in 1995 in London. Her parents are born in the head while her grandparents have origin in Punjab, India. She continues to amuse the masses with her unique British and Punjabi cultural blend.
Neelam Gill's Instagram
Want to stalk hot photos of Neelam Gill on Instagram? She goes by the name "neelamkg" on Instagram.
Neelam Gill's Rising Career
The British-Indian model Neelam Kaur Gill started modeling at 14 when she modeled for Burberry during London Fashion Week. Since then, she has represented famous brands like Abercrombie & Fitch, L'Oréal Paris' and Burberry. She was also the first British Indian ambassador for Marie Claire magazine.
Neelam was recently seen attending the Cannes Film Festival, where she looked drop-dead gorgeous in her black and green outfit. She was also spotted with Titanic star Leonardo DiCaprio who was present for the screening of his film, Killers of the Flower Moon. The news of their union recently fuelled rumors of dating.
Neelam Gill's Net worth
According to the reports, Neelam Gill's net worth will be around $5 million in 2023. A significant part of her income comes from modeling contracts and advertisements.
Neelam Gill's Previous Relationship
The British-Indian model previously dated the handsome hunk Zayn Malik, a former One Direction member, in 2015. Their union caught much attention as Zayn is among the most popular British singers.
However, their dating period was short-lived, and they broke up in peace peacefully. Zayn kept their relationship under wraps without any official clarification. Like most other celebrities, Neelam likes to keep her love life extremely princrediblyay from the media's eyes.
I hope you enjoyed reading the latest updates about the love life of Titanic actor Leonardo DiCaprio. Tune into our website for the latest news and juicy gossip about celebrities in Hollywood!